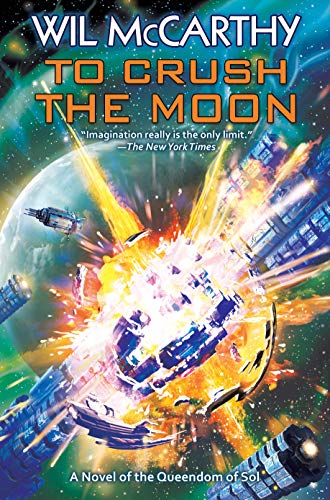 CONCLUSION TO THE GROUNDBREAKING QUEENDOM OF SOL SERIES
Once the Queendom of Sol was a glowing monument to humankind's loftiest dreams. Ageless and immortal, its citizens lived in peaceful splendor. But as Sol buckled under the swell of an immorbid population, space itself literally ran out. . . .
Conrad Mursk has returned to Sol on the crippled starship Newhope. His crew are the frozen refugees of a failed colony known as Barnard's Star. A thousand years older, Mursk finds Sol on the brink of rebellion, while a fanatic necro cult is reviving death itself. Now Mursk and his lover, Captain Xiomara "Xmary" Li Weng, are sent on a final, desperate mission by King Bruno de Towaji—one of the greatest terraformers of the ages—to literally crush the moon. If they succeed, they'll save billions of lost souls. If they fail, they'll strand humanity between death and something unimaginably worse. . . .
At the publisher's request, this title is sold without DRM (Digital Rights Management).
About Wil McCarthy:
"McCarthy is an entertaining, intelligent, amusing writer, with Heinlein's knack for breakneck plotting and, at the same time, Clarke's thoughtfulness."—Booklist
"'Imagination really is the only limit.'"—The New York Times
"The future as McCarthy sees it is a wondrous place."—Publishers Weekly
"A bright light on the SF horizon."—David Brin
"Wil McCarthy demonstrates that he has a sharp intelligence, a galaxy-spanning imagination, and the solid scientific background to make it all work."—Connie Willis
"In nearly every passage, we get another slice of the science of McCarthy's construction, and a deeper sense of danger and foreboding . . . McCarthy develops considerable tension."—San Diego Union-Tribune
"An ingenious yarn with challenging ideas, well-handled technical details, and plenty of twists and turns."—Kirkus
Engineer/novelist/journalist/entrepreneur Wil McCarthy is a former contributing editor for WIRED magazine and science columnist for the SyFy channel (previously SciFi channel), where his popular "Lab Notes" column ran from 1999 through 2009. A lifetime member of the Science Fiction and Fantasy Writers of America, he has been nominated for the Nebula, Locus, Seiun, AnLab, Colorado Book, Theodore Sturgeon, and Philip K. Dick awards, and contributed to projects that won a Webbie, an Eppie, a Game Developers' Choice Award, and a General Excellence National Magazine Award. In addition, his imaginary world of "P2," from the novel Lost in Transmission, was rated one of the ten best science fiction planets of all time by Discover magazine. His short fiction has graced the pages of magazines like Analog, Asimov's, WIRED, and SF Age, and his novels include the New York Times Notable Bloom, Amazon.com "Best of Y2K" The Collapsium (a national bestseller), and To Crush the Moon. He has also written for TV, appeared on The History Channel and The Science Channel, and published nonfiction in half a dozen magazines, including WIRED, Discover, GQ, Popular Mechanics, IEEE Spectrum, and the Journal of Applied Polymer Science.
Previously a flight controller for Lockheed Martin Space Launch Systems and later an engineering manager for Omnitech Robotics and founder/president/CTO of RavenBrick LLC, McCarthy now writes patents for a top law firm in Dallas. He holds patents of his own in seven countries, including twenty-nine issued U.S. patents in the field of nanostructured optical materials.
Tags:
Science Fiction & Fantasy