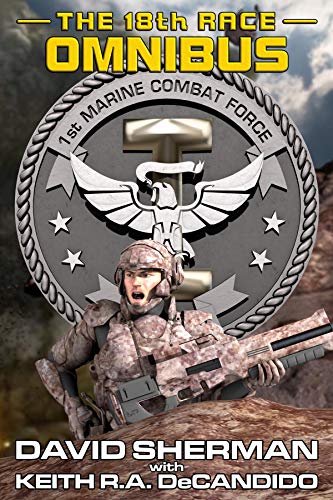 by David Sherman

(5 / 5)





The Full Saga in One Omnibus Version of the 18th Race Series
We're not by ourselves!
Humanity finds signs of eighteen sentient beings as it explores and colonizes the galaxy. Interstellar travel was not established by seventeen of them. The creatures that have entered the stars have killed them. The eighteenth space-faring annihilated the human colony of the Trojan Semi-Autonomous Planet.
A platoon sent to investigate by Marine Force Recon is wiped out almost to the last man. In reaction, the North American Union is building the largest army seen since the 20th century's major wars.
As a new Duster fleet arrives and targets the remaining warships of Task Force 8, in orbit before landing a large invasion army intended to destroy the Human Forces, things seem bleak for Troy and its defenders.
And back on Earth, the President of the NAU must determine the next course of action for mankind, even as scientists attempt to uncover the secrets of the Dusters to help the troops, sailors, and the Marines win.
-and time runs out!
"So [Not] Like Dogs,"So[Not] Like Dogs.
Tags:
Space Marine Science Fiction