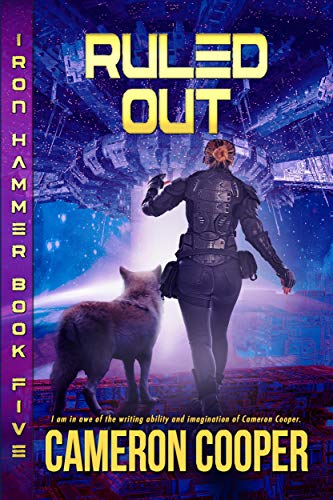 Danny and her people face a galaxy-spanning dilemma.
Danny Andela, once known as the Imperial Hammer, and her allies are forced by the warlike Slavers to find a way to lead the Carina worlds to war. But both war and universal leadership are abhorred by the scarred and abused Carina people…
Ruled Out is the fifth book in the Iron Hammer space opera science fiction series by award-winning SF author Cameron Cooper. The Iron Hammer series is a spin off from the acclaimed Imperial Hammer series, and features many of the characters and situations from that series.
The Iron Hammer series:
1.0: Galactic Thunder
2.0: Stellar Storm
3.0: Planetary Parlay
4.0: Waxing War
5.0: Ruled Out
6.0: Stranger Stars
7.0: Federal Force
8.0: Redline Rebels
Space Opera Science Fiction Novel
__
Praise for Cameron's Imperial Hammer series:
I love sci-fi and this story makes me love it even more.
I am in awe of the writing ability and imagination of Cameron Cooper.
Before reading any of this author's work, I would have stated I did not really like science fiction. THAT has changed.
It's full of action from beginning to end.
Brilliant and intricate.
Many memorable characters – but my favorite is Varg.
Twists and turns so you're never really sure what is going on behind the scenes.
I am so enthralled with the series that I am impatient for the release of the next book.
Cameron somehow describes scenes in ways that make me feel like I am actually present
This story truly does justice to the legacies of the greats, like Orson Scott Card and Frank Herbert.
Edge of your seat action will keep you captivated until the final page!!
__
Cameron Cooper is the author of the Imperial Hammer series, an Amazon best-selling space opera series, among others.
Cameron tends to write space opera short stories and novels, but also roams across the science fiction landscape. Cameron was raised on a steady diet of Asimov, Heinlein, Herbert, McCaffrey, and others. Peter F. Hamilton, John Scalzi, Martha Wells and Cory Doctorow are contemporary heroes. An Australian Canadian, Cam lives near the Canadian Rockies.
Tags:
Galactic Empire Science Fiction eBooks