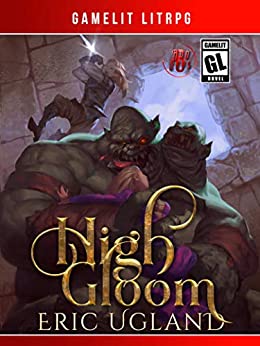 It all comes down to this: kill or be corpsed.
Clyde Hatchett has known he's had a corpse-king inside him, slowly trying to take over his body and raise an army of undead for a while now. And while that may seem like a rather, um, urgent matter to attend to, it's only now, after being forced out of Glaton by his best friends and then having to rescue someone's sister from a bad marriage, that he's actually in a place to deal with it.
And he better deal with it quickly, since his entire left hand is starting to look like it belongs to the Crypt-Keeper.
But Gloomguard, where the mage Clyde needs lives, operates on a completely different plane than anywhere else in Vuldranni. Everyone is out for themself, and there's no such thing as doing a favor. So in order to even talk to the mage, Clyde must embark on a series of preposterous quests he doesn't have time for and isn't guaranteed to survive.
High Gloom is the gritty sixth installment in the Bad Guys LitRPG series. If you like fast-moving adventure, profound magic, and witty necromancers, you'll love Eric Ugland's latest novel.
Tags:
Strategy Gaming