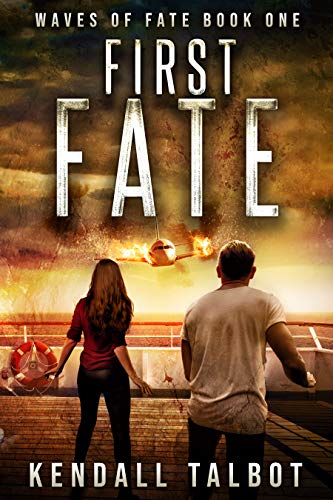 Prepare for a cruise like no other.
When an electromagnetic pulse (EMP) strikes Rose of the Sea, the pleasure cruise becomes a drifting nightmare. Powerless and desperate, the eleven hundred passengers and crew must face their new reality: No one is coming to save them.
The First Mate. The EMP destroys the captain's pacemaker, killing him in a heartbeat and Gunner McCrae is thrust into the top position. But no amount of training could prepare him for the savagery of desperate humans and an unforgiving ocean.
The Anchor-woman. Gabrielle Kinsella is known for bringing shocking stories to the world. She should be reporting on the headline of the century. Instead she's fighting for her children's lives.
The Acrobat. Held captive by a predator as a child, Madeline Jewel found freedom as the ship's acrobatic dancer. But being trapped in an elevator brings her worst fears back to life.
The Gambler. Zon Woodrow, notorious gator hunter, won his ticket to the cruise in a poker match. But that isn't the only pot he's looking to score. With the ship's security system obliterated, Zon turns his attention to the casino's vault. And this time, the house won't win.
As resources dwindle aboard Rose of the Sea, the body count continues to rise. Will ordinary people survive an extraordinary disaster? Or will they drown in darkness? Find out in this gripping disaster/survival thriller!
FIRST FATE is book one in the Waves of Fate trilogy – Think Poseidon Adventure meets Day After Tomorrow – and is perfect for fans of Matthew Reilly, Kyla Stone, Tim Tigner, Jack Hunt and A. G. Riddle.
BOOKS IN THE SERIES: First Fate, Feral Fate and Final Fate
Download First Fate today and settle in for a long night reading.
"If you like provocative, stressful situations and nail-biting intrigue then you are in for the ride of your life!!!" ★★★★★ MMGeric
"Get your copy of Kendall Talbot's First Fate today and buckle up for an Armageddon-like survival story, on a par with Titanic or the Mary Rose's maritime disasters – batten down your hatches first though, it's going to be a wild ride!" ★★★★★ Rosemary
"This has got to be the biggest roller coaster ride. I absolutely consumed it at breakneck speed. I am so grateful I came across this author." ★★★★★ Heather Kennedy
"OMG! First Fate hooked me in the first few pages and I didn't want to put it down!" ★★★★★ Wayne Mikel
"Oh my goodness if I could give this book more than 5 stars I would!" ★★★★★ Cyndi
"Wow. What a story. A cruise that should be fun turns into something more deadly. I was completely gripped." ★★★★★ Jackie
"Very original! I have never read a post-apocalyptic book staged on a cruise ship!" ★★★★★ Melanie Morris.
Look for more novels by Award winning, bestselling author Kendall Talbot:
First Fate
Feral Fate
Final Fate
Jagged Edge
Extreme Limit
Deadly Twist
Zero Escape
Lost in Kakadu
Treasured Secrets
Treasured Lies
Treasured Dreams
Double Take
Tags:
Contemporary American Fiction