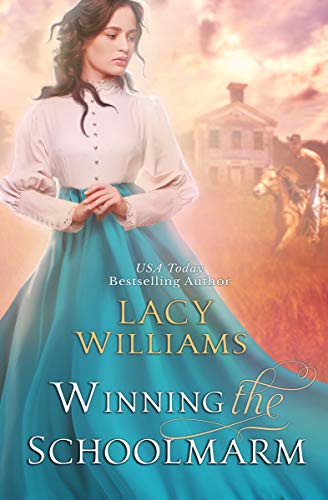 Swirling rumors forced Cecilia White out of the teaching job she loved. She vowed not to get involved with a man again—no matter what. But when the term begins at a new schoolhouse in a new town, disaster strikes. No matter what she does, she can't seem to escape the handsome, single chairman of the school board.
John Morgan has a secret. He's not who he says he is. He'll do anything to protect and provide for his young sister—including cozying up to the prickly schoolmarm.
Sparks fly and Cecilia must deny her heart if she hopes to keep her job. But what's more important? Duty or love?
"…pure sweetness in a very readable package, perfect for those who like their romance gentle, G-rated, and family-style." – Publisher's Weekly on The Homesteader's Sweetheart.
"…smart, gentle, and uplifting…" Publisher's Weekly on Return of the Cowboy Doctor.
Books in this series:
Marrying Miss Marshal
Counterfeit Cowboy
Cowboy Pride
The Homesteader's Sweetheart
Courted by a Cowboy
Roping the Wrangler
Return of the Cowboy Doctor
The Wrangler's Inconvenient Wife
A Cowboy for Christmas
Her Convenient Cowboy
Her Cowboy Deputy
Catching the Cowgirl
The Cowboy's Honor
Other books by USA Today bestselling author Lacy Williams:
The Sutter's Hollow series:
1. His Small-Town Girl
2. Secondhand Cowboy
3. Cowgirl Next Door
The Looking Back, Texas series:
1. Ten Dates
2. Next Door Santa
3. Always a Bridesmaid
4. Love Lessons
The Sawyer Creek series
1. Soldier Under the Mistletoe
2. The Nanny's Christmas Wish
3. The Rancher's Unexpected Gift
4. Someone Old
5. Someone New
6. Someone Borrowed
7. The Bull Rider
8. The Brother
9. The Prodigal
Cowboy Fairytale series
1. Once Upon a Cowboy
2. Cowboy Charming
3. The Toad Prince
4. The Beastly Princess
5. The Lost Princess
6. Kissing Kelsey
7. Courting Carrie
8. Stealing Sarah
9. Keeping Kayla
10. Melting Megan
Heart of Oklahoma series
1. Kissed by a Cowboy 1 & 2
2. Love Letters from Cowboy
3. Mistletoe Cowboy
4. Cowgirl for Keeps
5. Jingle Bell Cowgirl
6. Heart of a Cowgirl
7. 3 Days with a Cowboy
8. Prodigal Cowgirl
"Williams delivers a smart, gentle, and uplifting novel." Publishers Weekly on RETURN OF THE COWBOY DOCTOR.
"It's the kind of story you want to curl up next to a fireplace with on a snowy Christmas Eve." WendyTheSuperLibrarian book blog on A COWBOY FOR CHRISTMAS.
Tags:
Religious Historical Fiction