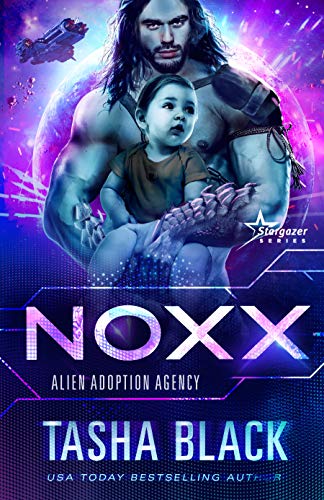 The Alien Adoption Agency is going to make all of Luna's dreams come true.
At least, that's what Luna believes when she boards a rickety space craft headed for a frontier moon to meet the child she will raise in exchange for 100 acres of land and a modest stipend. But she doesn't count on the dangerous animals, the short but lonely nights, or the big blue warrior who informs her he is on permanent security duty for the baby.
Noxx is a proud dragon warrior of the Invicta, dedicated to use his strength, strategy and endurance to protect his homeland. When his commander assigns him guard duty for a baby, he resents the interruption of his career. It's bad enough that he's starting to bond with the little whelp, but the instant he sees the child's adoptive mother, he knows she is his fated mate. Noxx will have to deny his desperate craving for the dark-haired beauty if he wants to hold on to his chance at redemption.
When a last-minute trek through the forest of Clotho gets them entangled in a dangerous battle, Luna will have to learn to trust the hunky blue warrior. But can the dragon let go of his duty long enough to let himself love someone, and be loved in return?
If you like strong women, sexy aliens, wild adventures, steamy sensual scenes, and happily-ever-afters, then you'll love the world of Stargazer!
Alien Adoption Agency is a Stargazer Alien Series – read them all:
-Noxx
-Kade
-Tyro
And check out the other Stargazer Alien series:
Stargazer Alien Mail Order Brides
Stargazer Alien Barbarian Brides
Stargazer Alien Space Cruise Brides
Stargazer Alien Reality Show Brides
Stargazer Alien Mystery Brides
Tags:
First Contact Science Fiction eBooks