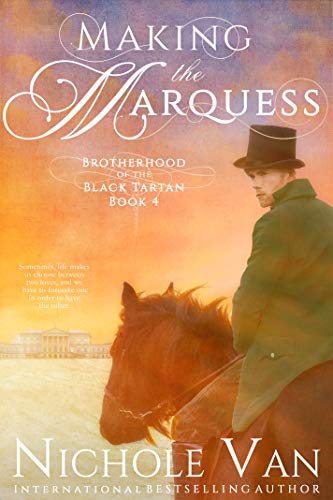 Lady Charlotte Whitaker is devoted to her family, particularly her sister's son, Freddie. Her late father, the Marquess of Lockhead, died without a male heir. But on his deathbed, her father requested that Freddie inherit the title. Consequently, Lottie's family has petitioned the Crown to recreate the title with Freddie as the new heir. Lottie wants nothing more than to honor her late father's wishes. But she unwittingly reveals a wrinkle to this plan.
Dr. Alexander Whitaker is dedicated to his work as a physician in Edinburgh, Scotland. He dislikes surprises—disruptions to his daily schedule, interferences with his ability to care for his patients, and events that might alter his future. He particularly abhors things that threaten to do all three. So when a solicitor calls with news that Alex might be heir to an English marquisate, Alex wants nothing to do with the claim. But the law is the law, and a man cannot revoke his lineage, can he?
Alex does not want to be the new marquess.
Lottie is determined to honor her late father's wishes.
Their goals should be simple enough to accomplish, right?
But when two kindred souls crash into one another, the resulting conflagration may have consequences neither can anticipate. And Lottie and Alex soon face a difficult truth—sometimes, life makes us choose between two loves, and in order to have one, we must forsake the other.
Tags:
Victorian Historical Romance