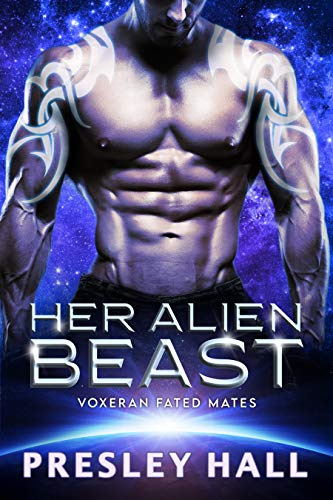 Axen fights like a beast. He terrifies me a little. But maybe he's exactly what I need.
As a doctor, I'm used to thinking logically and staying calm even in intense circumstances, so I thought I was adjusting pretty well to life on Nuthora.
Then the universe threw another curveball at me.
Not only am I stuck on a prison planet with a bunch of blue-skinned aliens… but I'm pregnant.
When the mate bond flares between Axen and me, it's more than I can handle. I want to get off this crazy ride and go back to a planet where things made sense, where my heart wasn't fighting with my head, and where most of the wildlife didn't want to kill me.
But there's no going back.
This is the path fate has carved out for me, and despite my fears about the bond, Axen is determined to prove he'll be a good mate.
Can this brutal alien warrior truly be my perfect match?
Her Alien Beast is a full-length standalone sci-fi romance featuring blue-skinned alien warriors, a heroine whose life is turned upside down, and a growly, protective hero.
If you like sexy aliens, steamy romance, and thrilling adventure, you'll love this series. No cheating, no cliffhanger, and a happily ever after guaranteed!
Note: each book in the series can be read as a standalone, but for maximum enjoyment, it's recommended that the series be read in order.
Voxeran Fated Mates series:
Book 1: Her Alien Prince (Charlotte and Droth)
Book 2: Her Alien Savior (Sadie and Jaro)
Book 3: Her Alien Beast (Elizabeth and Axen)
Book 4: Her Alien Warrior (Gemma and Kzuri)
Book 5: TBA
Tags:
Alien Invasion Science Fiction eBooks