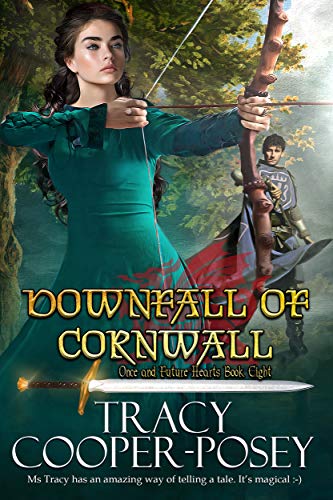 Can Anwen help Sagramore find a way out of the darkness?
Sagramore and Tristan are closer than brothers, sharing wine, women and an affinity for feral, furious fighting. As heir to both the King of the Magyars and the Eastern Roman throne, Sagramore is an outsider who has never been fully accepted by King Arthur's court, or King Mark's either.
Calm, composed Anwen Idria, oldest daughter of the King of Strathclyde, is adored by all of Camelot the moment she arrives. She refuses the attention of the passionate, fiery Sagramore, for his wildness and blistering emotions remind her too much of her father, a former slave called Idris the Slayer, who terrifies her.
When Tristan becomes obsessed with his uncle's new Queen, Iseult, and sinks into a black maw of hate and bitterness, Sagramore must avoid being pulled in with him, for Tristan's attachment to Iseult, a Princess of Ireland, threatens the peace of Arthur's Britain. Can Anwen help Sagramore find a way out of the darkness? Or will the shadows which loom over Britain consume them all?
This novel is part of the ancient historical romance series, Once and Future Hearts, set in Britain during the time of King Arthur.
1.0 Born of No Man
2.0 Dragon Kin
3.0 Pendragon Rises
4.0 War Duke of Britain
5.0 High King of Britain
6.0 Battle of Mount Badon
7.0 Abduction of Guenivere
8.0 Downfall of Cornwall
9.0 Vengeance of Arthur
10.0 Grace of Lancelot
11.0 The Grail and Glory
12.0 Camlann
Readers have described Tracy Cooper-Posey as "a superb story teller" and her ancient historical romances as "written art". Get your copy of Downfall of Cornwall today!
__
Praise for The Once and Future Hearts series
Imagine how good is the author in her craft that she is capable of surprising us her readers even though the Arthurian cycle is one of the most rewritten ones in western literature.
What a great storyteller! I never thought that anyone could tell an Arthurian tale as well as Mary Stewart, but Tracy Cooper Posey has succeeded. I am just in awe of her ability to meld historical detail with legends and turn out a mesmerizing story.
It takes me back to the magic I felt when reading Mary Stewart's stories of Merlin. Tracy Cooper-Posey has written another winner!
As a long time, self proclaimed Arthurian Legend junkie I couldn't wait to dive into Tracy Cooper Posey's new series. Tracy once again proves to be a master story teller as she weaves the delicate threads of this beloved legend into her own.
I also love the fact that her female characters are definitely not boring, whiny or TSTL.
Tracy Cooper Posey is brilliant at weaving stories with individuals that are completely believable in their thoughts and dialogue.
Ms Tracy has an amazing way of telling a tale. It's magical 🙂
Tags:
Fantasy & Futuristic Romance