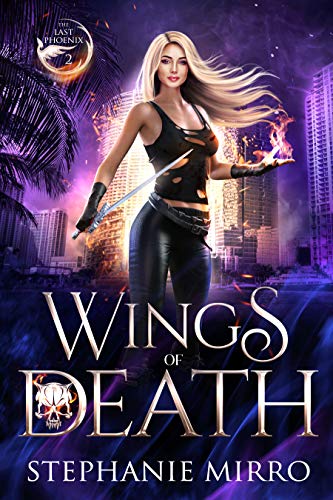 Good news? I'm no longer a thief. Bad news? I'm no longer a thief.
Some may consider that only good news since I'll no longer run the risk of getting my ass thrown in a grim reaper prison for the rest of my extremely long life. Longevity comes with the phoenix nametag. Except I happen to enjoy the thrill of the hunt that comes with relieving goods from my unsuspecting targets.
Too bad a sadistic vampire messed it all up for me.
But things never stay boring for long. When I find a necromancer's undead creation stumbling across a Miami beach – a highly illegal practice these days, I'd like to add – I get pulled into an investigation by the Death Enforcement Agency. Sounds like fun, right?
Wrong.
There's one huge problem. I've been recruited by a man I can't seem to resist, a sexier-than-sin grim reaper who sets me aflame in all the best and worst places. The attraction is unnaturally strong, but I can't focus on solving that problem until we find the necromancer responsible for the newly undead.
Because if we don't nip this dead-man-walking situation soon, we may have a rising zombie apocalypse on our hands.
If you loved Nalini Singh's Guild Hunters, Ilona Andrews's Hidden Legacy, or Seanan McGuire's InCryptid series, then you will devour The Last Phoenix series. Scroll up and one-click to start the adventure today!
WINGS OF DEATH is the 2nd book of 7 in The Last Phoenix series, a kickass urban fantasy containing fast-paced action, snarky humor, sexy grim reapers, a variety of shifters, a hearty dose of swearing, and a healthy splash of romance. Oh, and this one has zombies, too.
Tags:
Werewolf & Shifter Romance