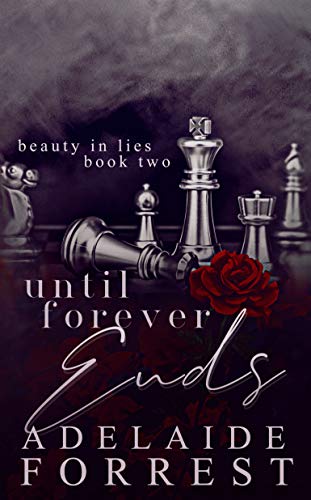 Rafael
Some obsessions are forever.
Isabel Adamik made me need her. She made me crave her in a way I'd never seen coming. With tempting innocence tinged by that hint of darkness under her skin, she showed me everything I'd never dared to dream mi princesa could possess.
A Queen for the devil himself.
Nothing exists but the overwhelming need to make her mine in every way. To sear myself into her skin until she admits she loves me.
Isa
Some loves are worth killing for.
I fell in love with the devil, and he stripped away everything I thought I knew about myself. With beautiful lies and clever manipulation, he showed me a version of the world that seemed too good to be true.
Because it was.
He's determined to possess me in every way. To strip down my defenses until there's no part of me he doesn't know. But sometimes…
Secrets are better left in the dark.
Until Forever Ends is the second book in the Beauty in Lies series and ends on a cliffhanger. This is a DARK mafia romance and contains graphic violence, mature content, and elements that may be triggering. Please read at your own discretion.
Tags:
Interracial Erotica