The Potion Commotion (The Happy Blendings Witch Cozy Mystery Series Book 1)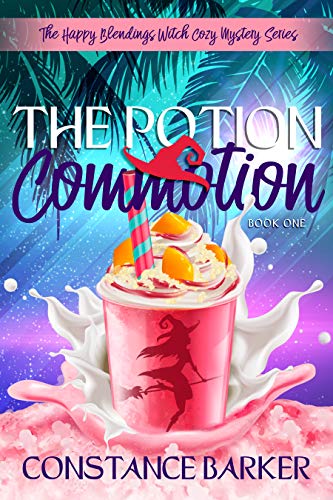 (4.5 / 5)
BLURB
Goodsprings Georgia is host to the coven of a hidden witch. The local smoothie store is owned by Sam, water witch. She likes to bring some magic in her drink and with her smoothie potions she can heal most of the ailments. Her one staff member, David named Tank, has tattoos in the parking lot on the ying yang and a Harley. Regular client Phineas and Chuckles, his pet rooster, love lounging in the courtyard chairs of the shop. Chuckles receives his own magic potion shot glass. Fortunate bird.
Tessa, witch of the flames, possesses the town's best grill. Mara, wind witch, can hear the city's murmurs, which when an inquiry is required goes in useful.
Amelia Windemere was the water witch of the coven until she died prematurely. She wasn't the city's most trusted person…. oh hell, she was the most desperate. But how is a witch of water drowning? Is there something more wicked or witch collectors in town? And why were two fresh couple investigators hired by the police just in moment for a murder?