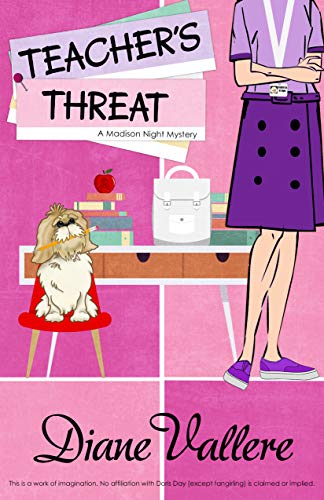 "Vallere has crafted an extremely unique mystery series with an intelligent heroine whose appeal will never go out of style." – Kings River Life Magazine
A professor murdered during office hours. A decorator enrolled in his course. Can she outsmart the killer who designed the perfect crime?
Madison Night just learned that business isn't sexy. She modeled her decorating career on a Doris Day movie, but after losing her company in a legal battle, the local banks are unimpressed with her unique sales angle. Determined to get her MBA, she attends night school – until her professor is found dead after an intensely-heated lecture. Now the only degree she can think about is murder in the first.
While the college recovers, Madison's last hope for a loan is denied. The dean resumes the coursework himself, and Madison can't help wondering if the curriculum holds the clues to the murder. Continuing her education is not without risk; pursuing her MBA may leave her DOA.
Teacher's Threat is the eighth captivating mystery featuring interior decorator Madison Night. If you like smart, classroom controversies, and Cabot Cove syndrome or read favorites like Jessica Fletcher or Cleo Coyle, you'll love Diane Vallere's smart, compelling series.
"If you love Doris Day, you'll love Madison Night, decorator extraordinaire. " – Books for Avid Readers
Read the whole Madison Night series today!
1. Pillow Stalk
2. That Touch of Ink
3. With Vics You Get Eggroll
4. The Decorator Who Knew Too Much
5. The Pajama Frame
6. Lover Come Hack
7. Apprehend Me No Flowers
8. Teacher's Threat
Can mid-century style coexist with a modern-day mystery? You decide!
"Diane Vallere…has a wonderful touch, bringing in the design elements and influences of the '50s and '60s era many of us hold dear while keeping a strong focus on what it means in modern times to be a woman in business for herself, starting over." – Fresh Fiction
" Vallere's descriptions of the colors, textures and artifacts of the era bring back vivid memories for those of us who actually lived through it. " – NY Journal of Books
" Vallere's smart styling and wry humor combine for a fresh and original page-turner." – Hank Phillippi Ryan, Agatha, Anthony, Macavity, and Mary Higgins Clark Award-winning author of The Other Woman
Tags:
Women Sleuths