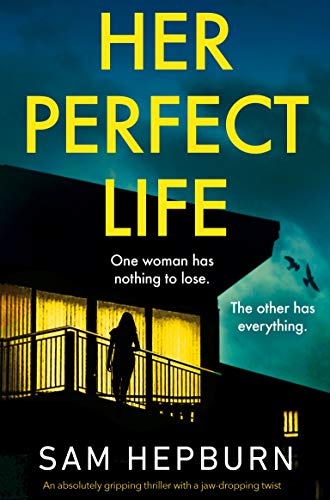 One woman has nothing to lose.
The other has everything.
To the outside world, Gracie Dwyer has it all: the handsome husband, the adorable child, the beautiful home and the glittering career.
Juliet's life couldn't be more different. A single mother struggling to make ends meet, she lives in fear of her vindictive ex-husband taking their five-year-old daughter from her.
So when Gracie moves into Falcon House, just streets away from Juliet, she sees an opportunity. If Juliet can just get close to Gracie, maybe her fortunes will begin to change. After all, if anyone has luck to share around, it's Gracie Dwyer.
And if cracks begin to appear in Gracie's perfect life, well, it's Juliet who will be there to pick up the pieces. Because no one's life is really that perfect—and sometimes all it takes is a little push to expose the darkest of secrets…
A gripping and suspenseful psychological thriller with a mind-blowing twist, fans of The Wife Between Us, His Lovely Wife and Gone Girl will be utterly addicted to this twisted story of obsession, secrets and lies.
Why readers are hooked on Her Perfect Life:
"Jaw dropping and heart stopping… one of the best endings and plot twists ever. It left me reeling. Absolutely floored. This is a fantastic read!" Goodreads reviewer, 5 stars
"Absolutely unputdownable… My hand kept flying to my mouth…I totally loved it!" With A Book In Our Hands, 5 stars
"I flew through it not wanting to miss one detail… plenty of twists and turns and an ending that will make you gasp!" NetGalley reviewer, 5 stars
"Page turner until the last page!… I was sucked in and read it over 2 days… definitely recommended." Goodreads reviewer, 5 stars
"Wow! I didn't see that coming! This book had it all, deceit, love, friendship, cheating and betrayal. Fast flowing and impossible to put down. I can't wait to read more by Sam Hepburn." Goodreads reviewer, 5 stars
"An excellent psychological thriller that will leave you on the edge of your seats until the last page… one of the best books I've read all year." Washington Post Mag, 5 stars
"WOW! My mind was blown by this plot twist. I had the situation figured all wrong… This was a truly engaging novel that really shocked me with a wild turn of events." Goodreads reviewer
"I was literally grabbed in from the first few pages, and I couldn't put it down… draws you in and holds you captive." Oh.happy.reading
"I couldn't put it down! It kept me guessing til the very end… that ending was insane! Didn't see it coming!" @debatably_bookish
"Wohooo this one was a winner!… definitely held your attention the whole way through!" NetGalley reviewer, 5 stars
"Tense & chilling… drew me right in and kept me reading late into the night." NetGalley reviewer
"The suspense will have you feeling like you're on a rollercoaster. Great twists throughout. Definitely recommend!" Happily Hilly
"Will leave readers guessing and staying up late to finish another chapter… a nail-biter of a book that readers won't want to put down." Girl Who Reads, 5 stars
Tags:
Psychological Fiction