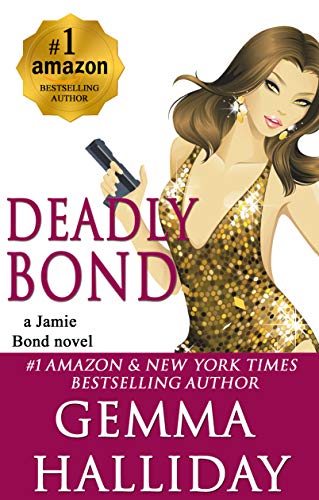 From #1 Amazon, New York Times & USA Today bestselling author Gemma Halliday comes sass, lies, and rock 'n' roll in a humorous mystery that's sure to leave you guessing!
Her name is Bond. Jamie Bond. And her life has never been more dangerous…
Clients are usually beating down LA private investigator Jamie Bond's door, looking to hire her and her crew of Bond Girls. But lately business has been slow, causing Jamie to take on some unusual clients. Case in point: the aging rock star who is sure his young alien-enthusiast wife is cheating on him. While Jamie has a feeling three decades of rock 'n' roll may have clouded his vision, she takes the case anyway—hey, money is money, right?
Only when her client ends up dead under suspicious circumstances, Jamie is rethinking her career choices. Especially when a second band member hires her, this time to put to rest an argument over the rights to the band's one hit song, "Hot Waitress." The song was mildly popular in the eighties, and after being recently used in a millennial-aimed TV commercial it's started generating big royalties—possibly big enough to kill over? Did the drummer with a temper finally snuff out his bandmate? Or was it the guitarist with a secret? The keyboard player with a decades-long grudge? Or did the younger wife simply decide she'd make out better as a widow than a divorcee? Between more suspects than she can trail, a side case involving frisky senior citizens, and two hot men both vying for her attention and demanding a decision, Jamie has more than she can handle. Can she make it out alive? Or will this be the case that finally breaks her?
The Jamie Bond Mysteries:
Unbreakable Bond (book #1)
Secret Bond (book #2)
Lethal Bond (book #3)
Bond Bombshell (short story)
Dangerous Bond (book #4)
Bond Ambition (short story)
Fatal Bond (book #5)
Deadly Bond (book #6)
Here's what critics are saying about Gemma Halliday's books:
"A saucy combination of romance and suspense that is simply irresistible."
~ Chicago Tribune
"Stylish… nonstop action…guaranteed to keep chick lit and mystery fans happy!"
~ Publishers' Weekly, starred review
"Smart, funny and snappy… the perfect beach read!"
~ Fresh Fiction
Tags:
Private Investigator Mysteries