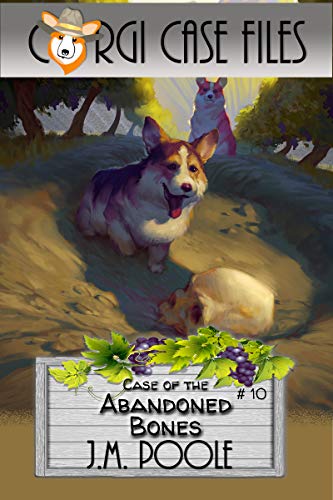 While working his winery's acreage, Zack is shocked to discover a complete skeleton buried in the ground, undisturbed for decades. Suddenly, the police are taking an interest too, and Zack could be in trouble. The bones of Charles Hanson, father of notorious femme fatale, Clara Hanson, are thought to be linked to a man named Red Dawg, a miner believed to be responsible for the start of the Oregon State Gold Rush in 1850.
Did Charles Hanson discover the hidden location of Red Dawg's gold mine? Could Charlie have been silenced to keep the location a secret? And how can Zack be involved in a Pomme Valley murder that happened 50 years before he showed up! Sherlock and Watson, are on the case as they try, yet again, to keep their buddy Zack out of jail.
Readers are loving this cozy mystery series with its two indomitable dog sleuths. Zack, Jillian, and the corgis, Sherlock and Watson, are at it again in this delightful series that pulls you right in.
Praise for Jeffrey Poole and the Corgi Case files:
"Mr. Poole is pure genius at tying together a great murder mystery – with plenty of drama, suspense, and even a few laughs thrown in." – 5 stars, online review
"… the [books] are like Potato chips – you can't just eat one! So pick this one up and delve into the world of mystery, fun and intrigue…you won't be sorry!" – C. Nantze, 5 stars on Amazon
"I can't wait for the next book. I love mysteries and animals, so these books are perfect reading for me. Sherlock is a small furry Jessica Fletcher." – H. Dudley, 5 stars online review
"The best thing–this guy loves the corgis, as I do, and he describes their behavior very well. Looking forward to future stories." – 5 stars, Amazon
"An intriguing story with a wonderful cast of characters. The plot was excellent and filled with twists and turns it kept my interest to the very end!" – 5 stars on Amazon
"I absolutely love this series. If you like a good story, great characters and seriously smart and lovable canines, you'll love this book. Start with the first book and work your way through the Corgi Case Files. They just keep getting better." – K. Underwood, 5 stars online review
"Love love love this series!!! One of my favorites, the characters are fun and real. But of course Sherlock and Watson are the best, who wouldn't want corgis like them! Can't wait for the next book!" – C. Woody, 5 stars, Amazon
Tags:
Cozy Animal Mysteries