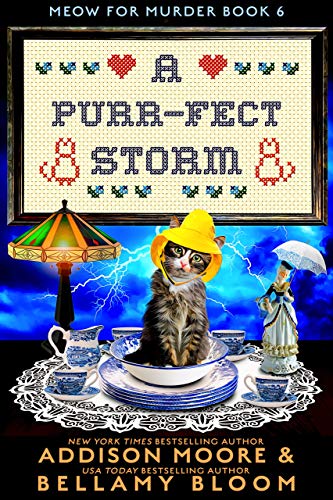 A highly inaccurate vision. A grumpy writer. And a corpse. Welcome to Starry Falls. Running from the mob can be murder.
A MURDER IN THE MIX / MEOW FOR MURDER crossover!
Confession. I'm no psychic. But I can sort of see the future—albeit not accurately. And you better believe, I've never let that little detail stop me from prognosticating my way into a pickle. So when I ticked off the mob, the feds, and my wily ex, I decided to take my Uncle Vinnie's advice and start over with a new name and new hair color while relying on my old shtick—getting my psychic wires crossed and putting myself in danger.
It's beginning to look a lot like murder. It's winter in Starry Falls, the snow is falling and the mobsters are coming in strong. My freedom is in the balance and the only question on my mind is should I stay or should I go now? Shep is willing to risk it all for me—and as a thank you, I might just get us both killed.
Living in Starry Falls is proving to be deadly.
A laugh out loud cozy mystery by New York Times Bestseller Addison Moore and her partner in cozy crime, USA TODAY Bestseller Bellamy Bloom.
Cosmopolitan Magazinecalls Addison's books, "…easy, frothy fun!"
Tags:
Psychic Mysteries