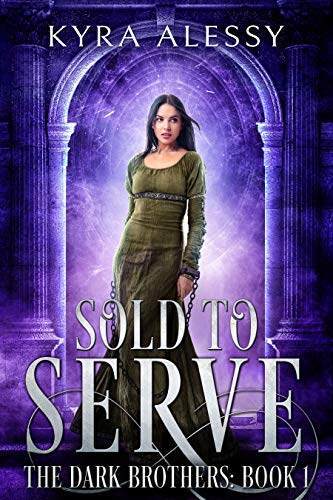 Enslaved by one woman. Three masters who are callous. Secrets that could kill all of them …
Kora ran away to start a new life where her own fate and her own body were under her influence. Instead she was kidnapped and auctioned off to the highest bidders: three black-hearted former mercenaries.
Ruthless and unforgiving, Mace is their master. Kade lives in the darkness and may not be a guy at all if his growls are anything to go by. And the only delights of the cruel Lucian seem to be drinking and tormenting their new possession until it breaks.
And she did.
Kora wasn't a slave before, and at all costs, she must keep that hidden. She'll be forced to marry a man who scares her even more than her cruel masters, once they discover who she is.
Will she escape the three dangerous brothers who have started to demonstrate to her that there is more to them than their tragic past? And if they find out her secrets, will she have faith that they will not throw her to the wolves?
Sold to Serve is the first book in the RH Dark Fantasy Romance Dark Brothers Series. You will love this book by Kyra Alessy if you love enemies of lovers, delightfully dark anti-heroes and your love stories with a bite.
Unlock the first adventure in today's awesome series!
Note from the author: In this standalone dark romance, as well as dubcon and crime, there are elements of bullying. If it's not your wallet, then you might not buy it. If it's your thing, I'm pretty sure this story would make you enjoy it. While the journey to happily ever after might be a rough one, it is guaranteed to arrive there!
Tags:
Women's Adventure Fiction