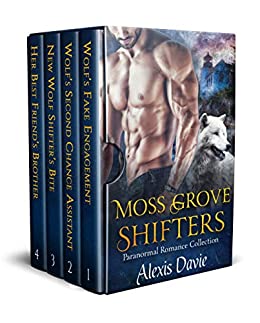 Second chances, bad boys, secret babies, and fake relationships are all packed into this wolf shifter romance collection.
Wolf's Fake Engagement
I have to marry before my birthday to satisfy the requirements to inherit a mass fortune. When I find a beautiful wolf shifter down on her luck, she seems like the perfect candidate to marry and then quickly divorce. Lyla agrees to my proposal, but she also makes it clear that she wants the charade to end as soon as possible. It all seems too good to be true, until I fall in love with her…
Wolf's Second Chance Assistant
I'm ready to retire from my professional football career. When I return to my hometown to start a new business, the employment agency sends over a new assistant. She's smoking hot and overly qualified. And, she's the one girl I let get away… She's cold as ice and bitter as hell. Our lingering feelings toward each other keep pulling us together in a confusing, dizzying turmoil. I don't want it to end.
New Wolf Shifter's Bite
When I find her alone in the woods, I don't know if she will make it. I rescue her only to find out she has amnesia and can't remember who she is or who hurt her. I find myself falling for her more each day, but her unknown past threatens our future.
Her Best Friend's Brother
Charlotte is my little sister's best friend. When I think about her, I remember a human who was shy and never really said much. When she shows up at a mutual friend's wedding, I wasn't prepared for the goddess Charlotte had become. There's an undeniable attraction, but one small misunderstanding threatens to tear it all apart. I just hope she will listen to me before it's too late.
Warning: Explicit love scenes and naughty language. Intended for 18+ audiences.
Tags:
Action & Adventure Romance Fiction