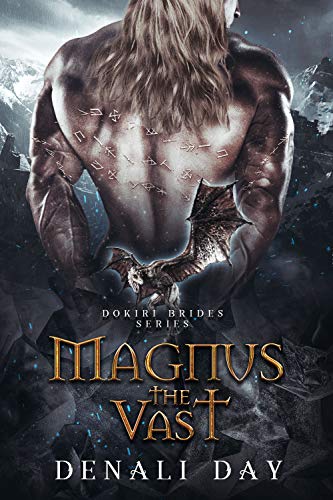 She'd willingly march into hell…just not with him.
Fiercely loyal to her country, Nadine will do whatever it takes to destroy the ancient evil threatening her world. Anything. Except allow a wild savage to put his mark on her.
Plagued by survivor's guilt, Magnus the Vast vows to do whatever it takes to bring home the friend he left behind. Claiming the beautiful hellcat who wants his head is a convenient bonus. One he won't let her get out of.
Bound together, Nadine and Magnus must rely on one another to complete their mission and save their people. Easier said than done for the woman-warrior who thinks her new ally a domineering brute, and the sly barbarian who is all too happy to play the part.
They'll walk into the pit of the earth, and they'll do it together—or they may never walk out.
The fourth in a sweeping new fantasy romance series. If you liked the world of Game of Thrones and the savagery of Conan the Barbarian, you'll love Denali Day's epic new series.
Buy Magnus the Vast to embark on your fantasy today!
Author's Note: This is not a shifter romance. The Dokiri men are savage enough in their manly forms. That being said, this book features a mild heat level. Enjoy the smoke but don't expect to get singed.
Trigger warning: This novel plays on the trope of abduction. While Dokiri men won't let anything keep them from the woman they love, even that woman herself, all love scenes between the hero and heroine are consensual.
Tags:
Nordic Myth & Legend Fantasy eBooks