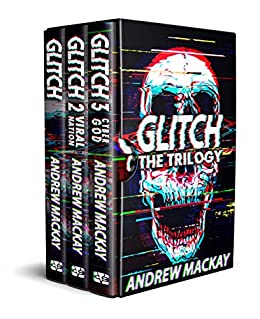 Evan Cole was murdered trying to save his tech company. Now, he's really mad.
Moments before dying, he uploaded himself into the corporation's mainframe. He's using 6G to travel through laptops, tablets, and cell phones to hunt down his killers—as violently as possible.
Kara Milton is keeping a dirty secret from her family, and she'll do anything to keep it quiet. But her life is turned upside down when Evan appears as THE SKULL on her cell phone… and blackmails her into helping him get revenge.
Now, with the odds stacked against them, Evan and Kara will make friends and deadly foes, discover astonishing AIs, and merciless modded mechs. It's an action-packed journey with unexpected twists and turns that screams to a conclusion that leaves you shaken and questioning your own reality—both virtual and real.
GLITCH: THE TRILOGY contains all three books in the terrifying cyberpunk horror series:
Glitch
Glitch 2: Viral Nation
Glitch 3: Cyber God
GET IT NOW.
Tags:
Cyberpunk Science Fiction