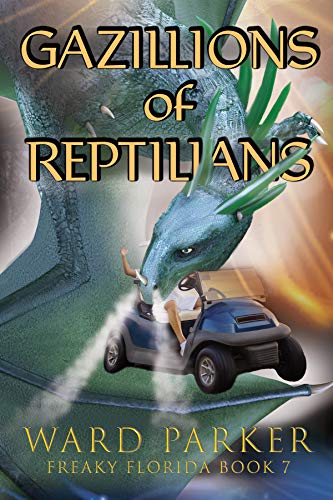 Are lizards the wizards of doom?
Midlife witch Missy Mindle is busy enough as a home health nurse for elderly vampires and werewolves in Jellyfish Beach, Florida. But now she needs to solve a murder, too. Who or what killed Marvin Nutley, her vampire patient found incinerated on his oceanfront balcony?
Marvin believed in the Reptilian Conspiracy: that Lizard People are taking over the planet. He claimed to have a video showing a human turning into a dragon. He also claimed he shot said dragon. And now there's the threat of all-out war between vampires and dragons, and between humans and every reptile with teeth. To prevent it, Missy needs to find out if Marvin was killed by cold-blooded reptiles or a hot-headed vampire, while she also tries to learn the truth behind her father's murder decades ago.
Gazillions of Reptilians is Book 7 of Freaky Florida, a humorous fantasy series filled with magic, monsters, and mystery; sarcasm and satire; and, of course, Florida Man. If you love the thrills of urban fantasy, the wit of cozy witch mysteries and paranormal women's fiction, and a big splash of comedy, this series is for you.
Tags:
Science Fiction & Fantasy