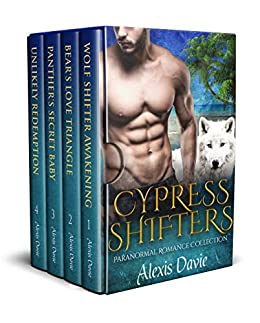 Welcome to Cypress, a town filled with romance, danger, fated mates, and HOT shifters that will keep you begging for more.
Books in this shifter romance collection:
Wolf Shifter Awakening
She is the outcast. He is the son of the Alpha.
Bear's Love Triangle
Hazel feels like she doesn't belong. When she becomes the target of two good-looking guys who want her attention, her life takes a dangerous turn. Hazel uncovers a frightening truth that might even cost her life.
Panther's Secret Baby
Hunter has a smile that could melt even the strongest metal. After an unforgettable night on his boat while on vacation, Hailey leaves the hottie behind. She never thought she'd see him again, but Holly returns to Cypress with life-changing news. She never expected Hunter to have some news of his own, turning her world even more upside down.
Unlikely Redemption
Tobias is given one last chance at redemption, but he never expected his assignment to be saving the soul of a demon. As an angel, Tobias can overlook Kylie's wrongdoings, but how can he possibly save her? He soon discovers Kylie isn't what she seems. This will change his existence forever.
Content Warning: Explicit love scenes and lots of sexy shifters. Intended for 18+ audiences.
Tags:
Romance Anthologies