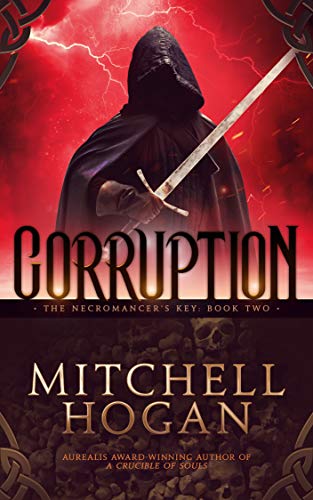 A corrupted power stirs from beyond the grave.
The Necromancer Queen will rise again.
In the wake of the rebel Niyandrians' abduction attempt, Anskar DeVantte, now a knight-inferior of the Order of Eternal Vigilance, has set sail with the Grand Master, bound for the mother house in Sansor.
Anskar has already begun to suspect that the Order's holy convictions aren't as pure as they appear, and his doubts are confirmed when the ship detours to the slave markets of Atya. As the Grand Master gathers an expedition to retrieve an ancient artifact from an unearthed ruin, Anskar finds himself torn between the holy path he is committed to and the grasping hands of those who wish to use his unique power: the Grand Master; the rebel leader, Carred Selenas; and even the Necromancer Queen herself.
When a depraved rot is exposed at the heart of the Order, Anskar is forced to confront the growing power of the dusk- and dark-tides within himself, and find a balance that won't see him damned in the eyes of his god.
But can a lowly knight-sorcerer resist his instincts to obey his superiors' in the Order, and fight the pull of Queen Talia's corrupted influence from beyond the grave?
The true danger is greater than even the Order realizes, and soon Anskar must decide who he can trust, and what he is willing to risk in order to carve out his own destiny, protect the world, and perhaps the fate of all Niyandrians.
An immersive and ambitious new series from the Aurealis Award-winning author of A Crucible of Souls.
Tags:
Coming of Age Fantasy eBooks